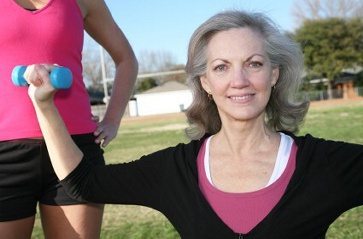 FREE Tipsheet

(no registration required)

Welcome to Prime of Life Fitness, where you can discover feel-good fitness for the rest of your life.

If you're a man or woman "of a certain age," you know that staying fit is not as easy as it used to be. It can be harder to maintain a healthy weight, you have countless demands on your time, and you have aches and pains and perhaps even chronic medical conditions that you didn't have in your younger years.

But you also know that exercise is recommended for almost every condition we face in our adult years, from diabetes to high blood pressure, from menopause to osteoporosis.

At Prime of Life Fitness we offer a wealth of free fitness and nutrition information along with one-on-one, small-group and online personal training programs. Our goal is to help you find the fitness program that makes you feel good and to help you adapt that program to fit your needs for the rest of your life.

So please, look around, make yourself at home, come back often, and begin your fitness journey with us today.

Important disclaimer: None of the information contained in this site should be construed as medical advice. Prime of Life Fitness recommends that every individual consult with a physician for clearance and recommendations before entering into a fitness program. More

Home | About | In-Home Personal Training | Small-Group Personal Training | Online Personal Training | Diet and Nutrition | Resources | Blog | Success Stories | Shop

Copyright 2011, Prime of Life Fitness, LLC, All Rights Reserved

Client Log In | Book Appointment | Contact

720-295-0150

Discover feel-good fitness, for a healthier, stronger, more vibrant you!
100 Ways to Burn 100 Calories